The Studio Collaborative: THE GREAT WILDCAT JACKSON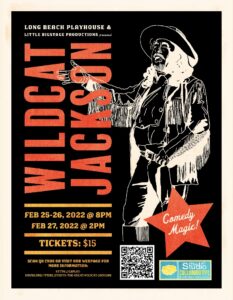 Company: Little Bigstage Productions
Dates: Feb. 25 & 26 @ 8pm, Feb. 27 @ 2pm, 2022.
Tickets: $15
Description:
Wildcat Jackson is the self-proclaimed monarch of the west. With his silly yet edgy brand of comedy magic, he entertains as an old-west showman in a modern world. This bargain-basement Buffalo Bill Cody works a crowd with his larger-than-life charisma and offbeat carnival-style show.
Company Statement:
Little Big Stage Productions is driven by its mission to entertain first and foremost. But all the while striving to achieve its core principles of activism thru art or efficacy thru  laughter or inspiration thru education. Little Bigstage will always strive to Be a dynamic force in the realm of entertainment through those principles and through the of minimalism and simplicity.
The LBP Studio Collaborative Season offers outside, local theatre companies and performing arts organizations the opportunity to produce their own shows in our Studio Theater.

Buy Tickets