We found a way to do theater online!  Welcome to the VIRTUAL SCENE COLLABORATION CHALLENGE: Plays in 72 hours!  Like our PLAYS IN A DAY, the writers and actors had a limited amount of time to write, then learn the scripts, and then record their performances to bring you this online virtual festival of short scenes!
On Day One of the 72 hours, writers were given an audience suggested theme: Deep, Dark Secrets.  They then had 8 hours to write a finished script for their scene.  On Day Two, the actors were given their scripts and had 8 hours to learn them and then to film their performances.  On Day Three, the recorded scenes premiered on the Long Beach Playhouse's Facebook page!
This is a free event, but any donation you want to make to the Long Beach Playhouse in this time of quarantine when we can't do live theater will be greatly appreciated!  Any amount will be help!
Here are the scenes all together so you can watch them whenever you want:
 A VERY IMPORTANT BUSINESS TRIP
Written By: Dana Hammer
Starring: Taylar Ann as Ivy and Marissa Schlichtman as Jesse
HONEY
Written By: Kelsey Jimenez
Starring: Rick Reischman as Ty and Callista Fowler as Sam
SURVEY SAYS
Written By: Rick Reischman
Starring: Jon Korbonski as Robber and Gabriella Quigley as Pollster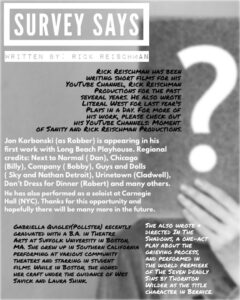 THE ORACLE
Written By: Larry Murra
Starring: Paul Burt as The Oracle and Sam Tanng as Caller 1 & Caller 2
THE UNBURDENER
Written By: Baylee Shlichtman
Starring: Maria V Oliveira as Unberdener and Devon DeLamora as Bystander
FOOTSTEPS
Written By: Elza Hofeld
Starring: Shai Culver as C and Nathan Shube as J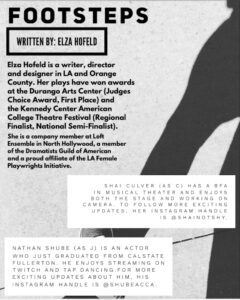 Buy Tickets