85th Anniversary Benefit Event!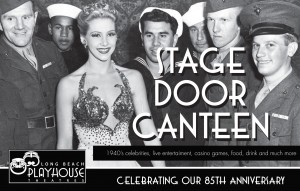 Saturday, September 13 from 6:30 – 9:30
Long Beach Playhouse will take a step back in time to 1943 when Long Beach was a Navy Town and Stage Door Canteens were all the rage. The entire ground floor will be transformed into a USO-type canteen complete with 1940s-era celebrities, a floorshow, casino tables, food and many other amusements.
The event is part of a yearlong celebration of the 85th anniversary of the Playhouse. It was the city's first community theatre and it has been operating continuously since 1929. "We've got actors lined up to be celebrities," said Jane Nunn, chair of the canteen committee. "The floor show includes the Andrews Sisters, Errol Flynn, John Wayne and others who will mingle with the guests and probably play a few games of poker."
In addition to the floorshow and casino games, there will be a tattoo parlor, a fortune teller and food provided by Naples Rib Company, La Strada, Di Piazza, Crooked Duck and desserts by Rossmoor Pastries and Cookies by Design