AUDITIONS: THE MOTHERF**KER WITH THE HAT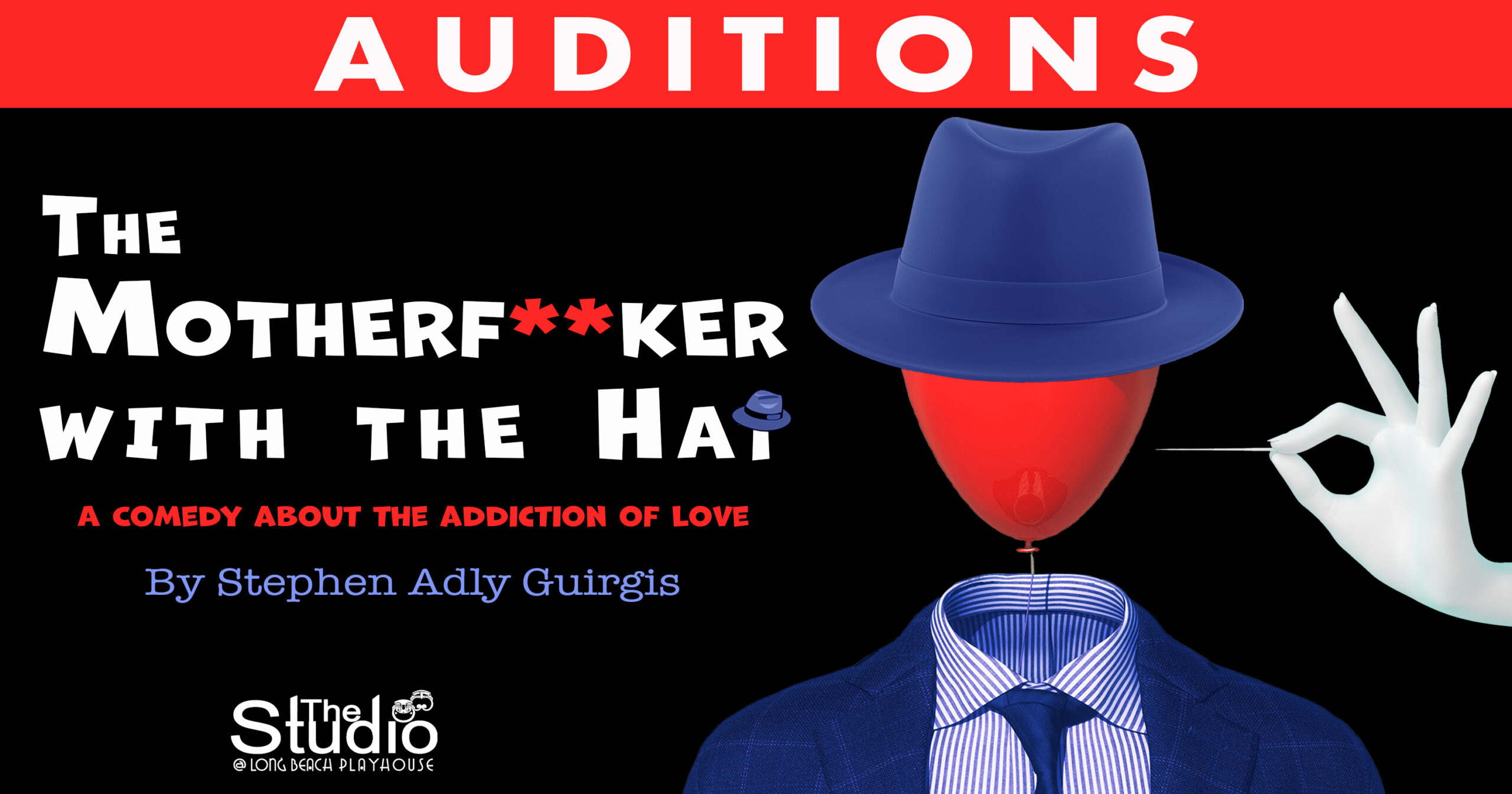 AUDITION NOTICE
TITLE: THE MOTHERF**KER WITH THE HAT
AUTHOR: Stephen Adly Guirgis
DIRECTOR: Carl daSilva
RUN: July 22 – August 19, 2023
Fridays & Saturdays 8pm, Sundays at 2pm. Special performances on Thursday and Sunday nights may be added for private parties and special events.
This is a volunteer community theater production. Non-Equity. There is no pay.
At this time, all volunteers including actors must be fully vaccinated to participate in shows.
AUDITION DATES:
Open Call:
Dates: Tuesday, May 29 & Wednesday, May 30, 2023 (Auditioners only need to come to one night of Open Call Auditions.)
Times: 7pm – 9pm
Location: Long Beach Playhouse
Callbacks:
Date and Time: Thursday, June 1, 7pm – 10pm, by invitation only.
REHEARSALS:
First Rehearsal – First Read-Through: Saturday, June 3, Noon – 4pm.
Regular Rehearsal: Sundays from 6 pm to 9 pm; Mondays, Tuesdays & Wednesdays from 7 pm to 10 pm. A few Thursdays for a few cast members
(See Beginning Rehearsal Schedule BELOW for specific dates and times.)
Location: Long Beach Playhouse
AUDITION REQUIREMENTS:
Bring headshot and resume. Sides for cold readings will be provided at the auditions.
Please bring your vaccination card as written proof of full vaccination to the auditions.
SHORT SYNOPSIS:
An unromantically romantic comedy where struggles with addiction, friendship, love, betrayal, and the challenges of adulthood are at the center of the story. Jackie is just out of prison and trying to stay clean. He is also still in love with his coke-addicted childhood sweetheart, Veronica. Ralph D. is Jackie's too-smooth, slightly slippery AA sponsor. He is married to the bitter and disaffected Victoria, who, in turn, has the hots for Jackie. And then there's Julio, Jackie's cousin . . . a stand-up kind of guy.
CASTING THE FOLLOWING ROLES:
VERONICA (Latina F, mid 20s to mid. 30s): Looking for a Latina female to play a New Yorker of Puerto Rican descent. Race open. Attractive. Sexy. Drug addict. Fast talking, wild, and rough around the edges.
JACKIE (Latino M, mid. 20s to mid. 30s): Looking for a Latino male to play a New Yorker of Puerto Rican decent. Race open. Veronica's boyfriend. Attractive. Ex-Con, a recovering addict, hot-tempered and capable of violence and yet good-hearted and vulnerable.
RALPH D. (M, mid. 40s): Race and ethnicity open. Jackie's AA Sponsor. A recovered addict. Inspirational, persuasive, smooth-talking, and a ladies' man. Selfish and manipulative.
VICTORIA (F, late 30s – early 40s): Race and ethnicity open. Ralph D.'s wife. She feels trapped in an unhappy marriage and feels her best years are behind her. Bitter. Hurt has turned to anger.
COUSIN JULIO: (Latino M. mid. 20s – mid 30s): Looking for a Latino male to play a Puerto Rican who was raised in New York from early childhood. Race open. Jackie's cousin. Impressive physique. Honest. Knows who he is. Self-confident. Straight-shooter.
BEGINNINING REHEARSAL SCHEDULE

:
May 30
@
7:00 pm
–
June 1
@
10:00 pm