IT STARTED WITH A LIE!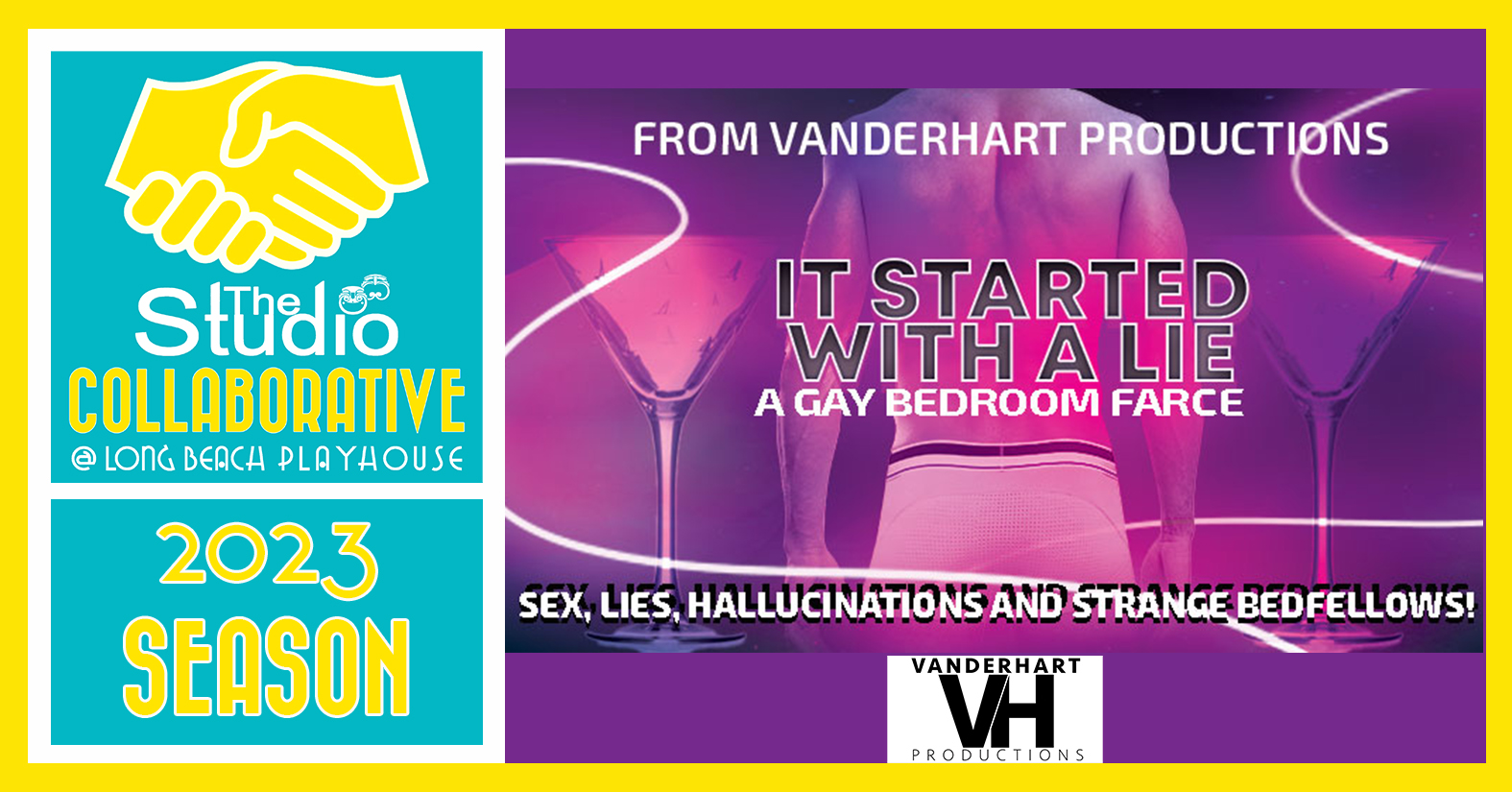 The Studio Collaborative: IT STARTED WITH A LIE!
Company: VanderHart Productions
Dates: Feb. 3, 4 @ 8pm, Feb. 5 @ 2pm & Feb. 10, 11 @ 8pm, Feb. 12 @ 2pm, 2023
Tickets: $24 regular, $14 Students, $21 Seniors
All Collaborative Shows do not have assigned seating, so it is first come, first serve.
PLEASE NOTE: The Studio Theater is on the 2nd Floor, it is only accessible by stairs, there is no elevator.
COVID Patron Safety Protocol
Please know that at our performances you, and everyone in your party (including children), will be asked to:
Wear a mask within the theatre.
Voluntarily assume all risks related to potential exposure to COVID-19.
Any questions regarding the policy please call and speak to a staff member, 562-494-1014
Description:
A racy bedroom farce about gay couples and strange bedfellows.  
Peter Stern is turning 50 and not happy. His company is being swallowed by a conservative foreign investor.  Peter's hubbie Elliot is marketing a sports drink with side effects—including extreme horniness.   Their friends are completely self-absorbed and now a hunky construction worker is hitting on his husband. Everyone has issues that become intensified once they all drink Mega Voltage! 
Company Statement:
VanderHart Productions is an independent production company dedicated to the creation of LGBTQ+ content for stage and screen.  We have produced seven successful stage productions in Southern California including "Honey I'm Home" and "With Friends Like These…" and several feature films including the cult favorite "Homewrecker" and the romantic comedy "Open: breaking the rules".  Our goal is to create entertaining, inclusive, and positive LGBTQ+ entertainment.
The LBP Studio Collaborative Season offers outside, local theatre companies and performing arts organizations the opportunity to produce their own shows in our Studio Theater.
February 3, 2023
@
8:00 pm
–
February 12, 2023
@
5:00 pm