BEST OF THE BEST SHOW & BEHIND THE MASK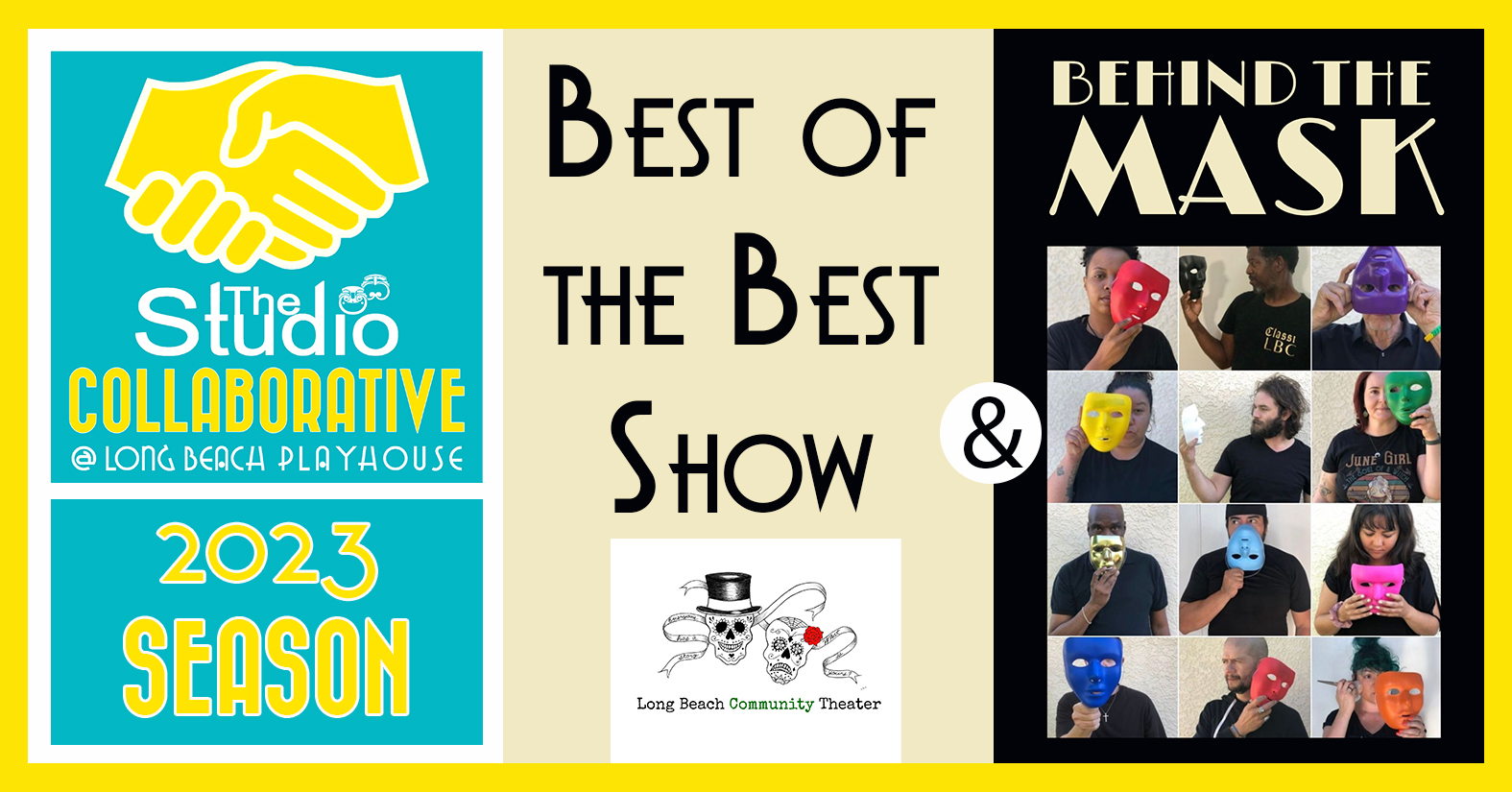 The Studio 
Collaborative: 
BEST OF THE BEST SHOW & BEHIND THE MASK
Company: The Long Beach Community Theater
Dates: Jan. 13, 14 @ 8pm, Jan. 15 @ 2pm, 2023
Tickets: $20
Saturday, Jan. 14, 2023 at 8pm – Best of the Best Show – SOLD OUT
All Collaborative Shows do not have assigned seating, so it is first come, first serve.
PLEASE NOTE: The Studio Theater is on the 2nd Floor, it is only accessible by stairs, there is no elevator.
COVID Patron Safety Protocol
Please know that at our performances you, and everyone in your party (including children), will be asked to:
Wear a mask within the theatre.
Voluntarily assume all risks related to potential exposure to COVID-19.
Any questions regarding the policy please call and speak to a staff member, 562-494-1014
BOTH SHOWS CONTAIN: Adult Language, Content, and Themes.
Description:
The Best of the Best Show:
It's the beginning of Season TEN (What?!) for the Long Beach Community Theater and we're ready to celebrate! Over the past nine years we have had 100's of participants step behind the mic. to share their true stories and talents! Join us for a smorgasbord-sampler of some of our favorite five-minute pieces from our "big shows", our two years spent on ZOOM, and our monthly storytelling event, "Speak. Easy."
Behind the Mask:
What happens when we take our masks off? When does the REAL (insert YOUR name here) get to stand up? AS IS.
Post-pandemic, 12 local artists went on a journey inward to learn more about themselves, their interactions with others, and how they show up in the world. Come witness as they creatively express themselves using storytelling, spoken word, monologues, music, and dance to allow you to see BEHIND THE MASK.
Company Statement:
The Long Beach Community Theater (LBCT) is a unique, storytelling theater where the participants are given a topic and five minutes to share a true story from their lives using any form of performing or visual arts they like: dancing, singing, acting, spoken word, film, or simply storytelling served straight-up – ANYTHING GOES! The LBCT provides a platform and a safe space for our friends and neighbors to express themselves and connect one story at a time. We strive to enhance our understanding of ourselves and others by producing original material revolving around social and cultural issues as well as values pertinent to the lives of our community. We believe everyone has a story and everyone's story matters!
The LBP Studio Collaborative Season offers outside, local theatre companies and performing arts organizations the opportunity to produce their own shows in our Studio Theater.
January 13
@
8:00 pm
–
January 15
@
5:00 pm